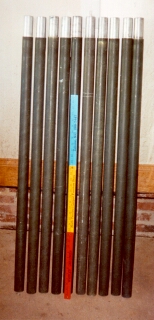 The Mast Company is now in its 27th year of providing cost effective antenna array support solutions to individual, commercial and military activities. Thousands of our aluminum mast sections and custom accessorices are in use around the world.
The Mast Company is a leading provider of portable rapidly-erected multi-purpose antenna array support structures for voice, video and data systems. We sell direct to amateur radio operators (hams), military personnel, military support organizations, internet service equipment providers, and local emergency communication groups. Some more unusual uses have included small sail boat masts/jibs, bat research netting supports, wind chimes, weather instrumentation towers, and aerial camera support.
The Mast Company products are designed and engineered for portability, rapid deployment, versatility, and ruggedness. Instead of having a full-time engineering and design team working to develop new designs and new ways to perform simple tasks, we elected to work with existing surplus and commercial items to provide an innovative line of products to meet the demands of communication specialists. Additionally, our products are designed for minimal visual impact. Wherever possible, we use non-corrosive materials and hardware for long-term survivability in the tough environmental conditions so often encountered in the field. Our mast systems are strong, but light and compact enough to be stored in portable shelters/tents or carried in standard personal transportation vehicles.
Because of our location in an area of the country with numerous nearby military installations, we are able to obtain materials at a cost reasonable enough to make this a viable part-time effort.
Browse our web site, learn more about our products, and contact us for discussion of your application. Our recommendations are very conservative, so rest assured that we will not suggest questionable applications. And, if our products are not what you need, we will gladly provide recommendation to other suppliers.