Vertical Antenna & Mast Kit $175.00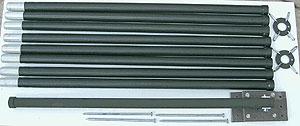 The TMastCo Vertical Antenna Kit (VAK1) is a non-tapered high strength aluminum vertical antenna or mast system. When used as a radio frequency (RF) radiator, the non-tapered antenna element provides the widest practical bandwidth coupled with a low wind resistance. The corrosion-resistant aluminum, composite base assembly and stainless steel and zinc-plated hardware result in an attractive and durable antenna/mast system.
NOTE that this assembly is a KIT; which requires the user to make some decisions as to final assembly details and ultimate use. As a result, some extra work may be necessary for finalizing your application. Our included Application Notes provides suggestions for some installation details.

Each aluminum section is 48 inches long and 1.75 inch diameter, with the exception of the joint areas, where the female end has a 2 inch OD support ring. The 3.75 inch male end is a smaller diameter that slides into the female end with close tolerances forming a stable joint. Around the outer surface of the female end is a 1-inch wide, 0.125-inch thick band that adds structural strength to the joint area. The nominal wall thickness of the sections is a minimum of .08 inch with a series of thicker areas that are 0.11 inch. This design visually adds a ribbed surface (12 ribbed areas evenly spread around the circumference of the main section length as well as the smaller male sleeve end, see picture), reduces the overall weight while maintaining good vertical strength. Because each aluminum section is identical, there is no complicated assembly of different size pieces, and the section joint design does not require clamps or fasteners to maintain structural and electrical integrity. The joints can be additionally stiffened by the insertion of screws or bolts (not provided), at the discretion of the user. These sections are directly compatible with the other aluminum mast sections we offer. Between some OEM documention and informal testing, we have determined that the aluminum is grade 6063-T832 with typical yield strength of 40,000 psi. Oh…the outside surface is painted a nice shade of standard military olive drab, just like the other mast sections.
The pieces that we now have in stock are either - brand new & unused, or slightly used (some scratches and areas of missing paint). Each (ribbed surface) section weights 2.1 lbs versus the standard mast (smooth surface) section weight of 2.7 lbs.
The basic VAK1 includes 9 sections of aluminum tubing (total height of 33 feet), an insulated pivoting composite base assembly (IPBA1) with 4 ground stakes, 2 aluminum guy ring plates with 4-each attachment quicklinks. The base assembly comes pre-assembled, so no special tools are required to assemble the VAK1. As a result, there is no varied assortment of bolts/screws/nuts/washers to fumble with, or misplace, during setup. Optional accessories are available for enhancing the use of the VAK1 as a support mast for various HF - UHF arrays. The base assembly is designed to mount directly on the ground, or any other flat surface, and is fixed with the supplied 4 ground stakes (hammered into the ground). Other methods of fixing the base are up to the user to determine. Note that there is no need for a concrete surface or a long driven ground pipe, which would require longer set-up and disassembly times. Thus, our VAK1 is a versatile portable or permanent system with the only additional customer-supplied support accessories needed being a hammer, guy lines and appropriate guy anchor points.
The VAK1 will need at least 2 levels of three or four guy lines to survive moderate to high winds. We recommend using 4 guy lines per level since this setup allows the guy lines to be used to guide and stabilize the aluminum element as it is raised. If used as a mast system, then a third level of guy lines may be needed at the top. Guy lines can be light-duty steel cable or rope/cord with a working load strength greater than 500 lbs. Remember that you only need general stability during winds, not significant guying as required by a steel tower. Ultraviolet (UV) resistant braided rope/cord made of polyester (Dacron) is the best choice for long-term installations. Short-term portable installations could use local hardware store variety nylon rope/cord, as long as the working strength is adequate. Guy anchor points can be existing building structure foundations or trees. If these are not readily available, ground-mounted guy anchors can be found at most hardware or home improvement stores. Also, check our Accessories page for guying hardware, or contact us for possible short-term stocked items that may be used in a mast system.
When used as a vertical antenna RF radiating element, a key to performance is a good ground wire radial system (not included with the VAK1). A minimum of 30 radial wires, with lengths up to a quarter wave length of the operating frequency, are highly recommended. Even more are better, however, less will also work, but with decreased results. Additionally, local soil conditions will also impact performance. Radial wire attachment points are not provided with the VAK1 base assembly since there are various commercial and homebrew options available. Note that the VAK1 base assembly is designed to work with the DX Engineering DXE-RADP-1P Radial Plate.
In addition to wire radials, a customer-supplied base-mounted antenna matching unit (tuner) will be required for multi-band/frequency operation. There are several outdoor automatic matching units commercially available that can tune this vertical antenna system. The user should be aware that internal high-frequency (HF) transceiver matching units may not be capable of tuning this antenna system from a distant location via standard coaxial cable feedlines.
Other than the items shown on our Accessories page, TMastCo does not provide any attachment hardware for direct mounting of antennas, or other components, to the VAK1 when used as a mast system. Depending on the application, certain commercially available TV antenna mounting hardware may work toward attaching items to the aluminum mast sections. Some hardware store U-clamps and brackets may be utilized in fabricating accessory mounts.
We also include a 6-page Application Notes that provide guidance in actually getting the system installed safely and not subject to "erectile dysfunction". As for how to make it work as a radiating resonant antenna -- we are not going to make any claims as to how well it performs by listing the great DX stations we worked the first day installed -- we direct you to the ARRL Antenna Book, other ARRL antenna publications, and W4RNL, L. B. Cebik's outstanding web site (www.cebik.com/radio.html). See the Feb. 17, 2006 eHam.net review by KD7UYC.
Basic VAK1 pieces:
9 Aluminum Tube Sections
2 Aluminum Guy Rings
8 Quicklinks
4 Ground Stakes
Pivoting Base Assembly
Application Notes
Optional accessories:
Extension Kit:

No Longer Available due to lack of standard sections.

Not happy with only 33 feet?

How about 37, 41, 45 or 48 feet? Then get our Vertical Antenna Kit Extension Package (VAKEP1), which includes 4 standard (heavier-duty) mast sections with 2 extra guy rings and 8 quicklink pieces. This can add an extra 15 feet, bringing the overall height to 48 feet. (NOTE that it is more difficult to erect the complete system) Price is

$XX.xx

plus packaging/shipping.

The Insulated Pivoting Base Assembly (IPBA1) with 4 ground stakes is available separately for

$45.00

, plus packaging/shipping.

Additional VAK1 new ribbed aluminum mast sections are

$10.00

each plus packaging/shipping.

Heavy Duty Storage/Transportation Bag (BAG1): Rubberized heavy duty canvas, 55 inches long, 12 inches diameter, duffle-type bag with carrying handle/strap; will hold all pieces of VAK1 plus other noted accessories above. Price is

$15.00

plus packaging/shipping. Condition of the bags in stock range from slightly used to heavily used.
Pricing & Ordering of Basic Kit:
VAK1 is

$175.00

(plus packaging/shipping to your address).

Contact us

for complete price quote, shipment schedule, and payment methods.

For those needing an all-in-one complete ready-to-go package, contact us with your specific application needs.
Shipping:
The Vertical Antenna Kit is shipped in two packages, one (48 X 6 X 6 inch box) with mast sections weighing around 20 lbs via FedEx Ground. The second box containing the base assembly, stakes and guy ring kit, is shipped via USPS Priority Mail. This method results in lower cost to you versus a single 60 x 6 x 6 box. If you insist on using UPS or other methods, please be prepared to pay the additional cost. International shipment is possible, and expensive; however, please verify that your customs officials will allow entry into your country. Also, there are length restrictions for certain countries that must be considered.
Page Updated - June 2022